Double weave in the Nordic countries
The original book is in Swedish but more or less the whole book is now professionally translated to English. All pictures are included but text of only local interest is excluded.
<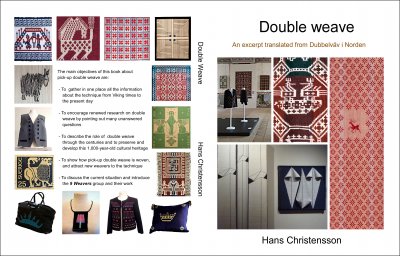 Recension VÄV   recension-vav-eng.pdf
Recension Solvögat rec-siv-eng.pdf
How to buy
The book can be ordered in English or Swedish from Hans(at)on.se
The prices are 280 SEK per book
The postage depends on where the receiver lives:
Sweden :             45 SEK
Europe:             130 SEK
Outside Europe: 160 SEK
An invoice with instructions for the payment will be included in the delivery.